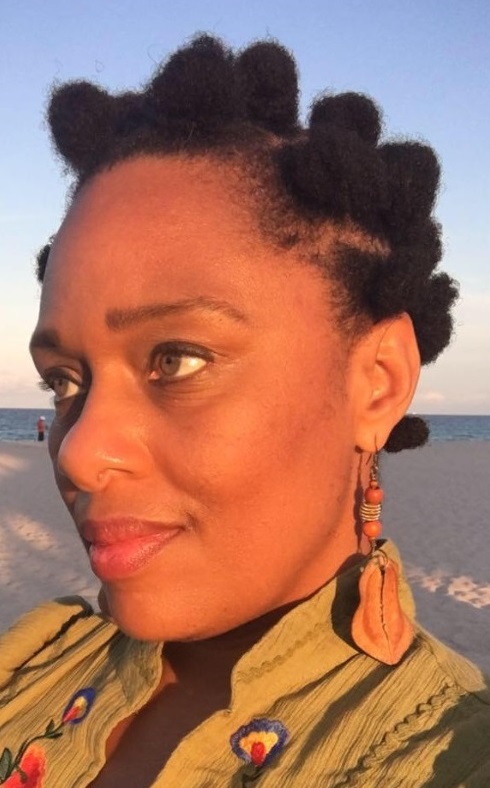 Hi! I'm Te-Erika The Oracle and my mission is to create world peace. I was born and raised in Liberty City/Miami, Florida and I am currently traveling the United States living a Free & Fearless Life. I am an Intuitive Counselor, Mental Health and Personal Success Teacher and a prolific Digital Content Creator. I use my skills as a Content Creator and Digital Entrepreneur to present content that empowers people to overcome life's trickiest circumstances. I am the mom of two amazing sons, SaiDON and Solomon.
My digital empire consists of 3 active blogs, 3 YouTube channels, 3 podcasts, an online school, 3 coaching programs, an e-commerce store, 13 books and ebooks, more than 1300 original videos and more than 2,000 original blog posts and articles.
I am inspired by the amazing achievements of Malcolm Gladwell, Kanye West, Nikola Tesla, Frida Kahlo, Maya Angelou,  and Harriett Tubman. Each of these people have irrevocably impacted the way I view myself and the scope of my capabilities.
Formal education? Sure, I have some.  I graduated from Miami Jackson Senior High School in 1997 and then went on to earn a BS in Journalism at the University of Florida. I later studied Marriage/Family Counseling as a graduate student at Barry University.
As a journalist, I am proud of my body of work. My writing has been featured in dozens of publications both online and in print including The Atlantic, Fox News, Forbes.Com, Entrepreneur.Com, Smithsonian.Com, Mom.Me, The Miami Herald, DigiDay, YourTango, xoJane, Buzzfeed and The Huffington Post among many other publications.
This is a record of my creative work. All concepts produced without influence or permission.
Subscribe to Keep In Touch
2003
Introduced my first blog– I created Share My World on blogspot in 2003 before I knew how to create hyperlinks, before people were blogging for money, before I had any idea it would become my career. I wrote about my life after college up until 2011. Share My World had been archived and unavailable to the public. It has now been re released as a complete chronological archive in November 2018.
2007
Mental Health & Personal Success YouTube Channel – My main Youtube channel is called Embrace Your Fantasy. I created it because I wanted to teach people how to achieve their wildest dreams. To date, Embrace Your Fantasy hosts more than 1200 inspirational and intellectually provocative videos that provide unique wisdom for many of life's complexities.
2008
Mini Documentary – I created a mini documentary in 2008 as a project for my graduate school program – The Dragon Slayer: Hope for the African American Community.
2009
Radio Host – I spent time as the radio host and producer of Keeping It Together with Te-Erika on WBRY 1640 AM, while a graduate student at Barry University. During my weekly show I shared insights about relationships, both romantic and platonic, that encouraged listeners to have faith in their life path.
Internet Television Show Host – In 2009 hosted a weekly internet talk show called Krib TV's Embrace Your Fantasy that broadcast LIVE from the top of the Sony Building on South Beach. I interviewed music artists and professionals from the South Florida music scene, allowed them to perform and offered them awards for going after their dreams. My show ran for 13 episodes and some of them can be found on Youtube.
2010
Mini Documentary –  In 2010, I created a drug relapse mini documentary for my graduate school program: Bad Medicine: A Drug Relapse Documentary.
Spoken Word Artist – I performed regularly at open mic nights in South Florida. Some people may remember me as a spoken word artist, but it's been a while.
2011
Book Published– I published my first print self help book- It's Not A Sin To Be Single.
Mental Health Website– I created MySavvySisters.Com, a website dedicated to providing resources, information and inspiration to empower women to survive life's trickiest circumstances. With more than 1000 posts to date, I have presented original inspirational articles, original motivational videos, local and federal resources for survival, timely world news of interest, free mentoring, free give-aways and so much more. Since 2011, My Savvy Sisters has also offered FREE emotional crisis counseling, scholarships and financial assistance to women. To date I have offered more than 300 women the emotional and financial support they need to survive and thrive in life.
E-Book Published – The 1% Mentality: The Difference Between the Haves and the Have Nots
E-Book Published – Small Steps To Achieve Big Dreams: For Future World Changers
E-Book Published – Get Over Him!: How To Move On After a Break Up
E-Book Published – How To Train Your Man
The Rebuild Your Life Project– In April 2011, I gave away everything that I owned and became homeless on purpose for The Rebuild Your Life Project. I aimed to teach women how to overcome their fear of failure while documenting my journey into and out of homelessness on my women's empowerment blog, MySavvySisters.Com. During this 4 month journey as a homeless woman, I also filmed videos showing my journey and teaching mental strategies for overcoming hopelessness. I posted these videos in real time in a series on my YouTube channel so that my subscribers could follow along.
Job Fair for Women in Distress – During The Rebuild Your Life Project I organized a job fair for homeless women.
Rental Assistance Grant – During The Rebuild Your Life Project, I gave away a $650 Rental Assistance Grant to help a woman to keep her home.
Denny's Job Fair Initiative – After The Rebuild Your Life Project was completed, I invited Denny's Restaurant to hold a job fair for the community in South Florida. Denny's Restaurant  partnered with The Rebuild Your Life Project to interview and offer jobs to unemployed people. See the video. 
2012
The Rebuild Your Life Project- Los Angeles – In June 2012 I moved to Los Angeles with less than $200, no friends or family and no support to film The Rebuild Your Life Project- Los Angeles.  I invited the readers of my blog, MySavvySisters.Com to choose a city for me to move to so that I could demonstrate how to start over in life in a new city all by yourself. My blog readers chose Los Angeles. With a 6 week deadline to prepare, I bought a one way ticket, vowing to move to a city I had never even visited before, secure housing, employment and have a few adventures.
I have been chronicling my journey on my YouTube channel and sharing survival strategies for supporting yourself financially during a life transition and tips on how to handle the emotional stresses of living on your own without support.
Grants For Women Achievers – My ultimate goal with the Rebuild Your Life Project- Los Angeles was to give away $4,000 in grants to women who have started over in life in Los Angeles successfully.
Two grants have been awarded so far; $1000 to Jai from Dallas and $1,000 to Essa from Minnesota. I am raising the money for the grants through my own personal income.
50 Interviews With Successful L.A. Transplants – I set a goal to interview 50 people who have moved to Los Angeles  successfully to use a resource for others who are poised to make the same life transition. This goal has been achieved.
2013
Music Video Producer- I wrote the lyrics, composed the beat, performed the song, shot and edited the video for Rebuild Your Life Music Video on my laptop with no professional training or equipment.
Parenting Blogger – I am an established Parenting writer. From 2013-2016 I wrote more than 200 parenting blog posts, news articles and features stories for Mom.Me.
E-Book Published – The Unloveables
E-Book Published – Kiss My Girlfriend (Erotic Fiction Short Story)
2014
Resource Website for Moving to Los Angeles – In 2014 I created a website dedicated to sharing tips for hopeful Los Angeles transplants called Moving To LA TODAY.  
Moving To Los Angeles YouTube Channel: I created a companion YouTube channel, Moving To LA Today to showcase interviews with some of the most interesting Los Angeles transplants, awesome businesses as well as introduce the key players in the Los Angeles community.
Mental Health Blog for Victims of Abuse – Abuse Is Not A Secret, created in 2014, is a mental health blog that offers a space for abuse victims to share their stories openly without judgment. Psychology professionals, authors and those who are dealing with the aftermath of addiction, emotional, sexual, spiritual or physical abuse are also welcome to share their stories and healing techniques.
Relationship Blog for Female Led Relationships – In 2014, I created the now defunct site- Conquer Him (With Love). Conquer Him explored the dynamic of female led relationships where the woman held the supreme authority in the relationship. At the time I was a student of this relationship style and had no professional or personal knowledge of its dynamics. Instead of publishing my own personal experience stories, I invited women and men who were a part of female led relationships to share their stories on my blog in essays and interviews.
2015
Relationship Coaching Program – In 2015, I created my first Relationship Coaching Program for men. I taught them how to prepare for, initiate and maintain a female led relationship. By the end of 2015 I had created a Relationship Coaching Program for women.
Digital Education Program – I created the Conquer Him Academy, an online school that offers instant access to digital Female Led Relationship coaching classes.
Private Social Community – In 2015 I created the Loving FLR Community (formerly known as the Conquer Him Community before rebranding), a private membership community that connects people who celebrate Loving Female Led Relationships.
2016
Relationship Blog for Loving Female Led Relationships -While teaching female led relationships and running the coaching programs I recognized that there was an underlying distinction that was largely ignored in the interviews that I had done. From the many women and couples that I had spoken with, coached and interviewed I determined that there were two different types of Female Led Relationships; Femdom Female Led Relationships and (I introduced the term) Loving Female Led Relationships. Femdom Female Led Relationships focus on controlling the man while Loving Female Led Relationships focus on empowering the woman. I decided that I would become a teacher of what I called Loving Female Led Relationships, which had not formally been recognized as a relationship style.
I created LovingFLR.Com, a website that celebrates Loving Female Led Relationships. Loving Female Led Relationships are relationships were the woman's happiness, satisfaction and progress are the main priority. She is the leader of the relationship and the household. She sets standards and expectations for the relationship and her partner happily works to meet them, ensuring that she has everything she needs to create a great life for herself and their family.
Relationship Advice YouTube Channel – Loving Female Led Relationships was created to teach fundamental principles behind establishing healthy, loving Female Led Relationships that empower women.
Relationship Coaching Program – In order to encourage the success of Loving Female Led Relationships I began to facilitate a web based coaching program for women called Loving FLR Leadership Coaching. I coach women on how to become more assertive, confident leaders in their relationships and in society. I also coach single men on how to prepare to be an asset to a Powerful Woman.
Digital Education Program – I created the Loving FLR Academy, an online school that offers instant access to digital LOVING Female Led Relationship coaching classes.
Website For Women's Leadership Movement–  In 2016 I set out to lay the foundation for the establishment of a Female Led Society.  I am the creator of FemaleLedSociety.Org, a website that aims to educate the masses on the importance of supporting women in leadership and the ascension of female leadership in society.
E-Commerce Store – In 2016 I established FLRStyle.Com, an eCommerce store that offers custom t-shirts, jewelry, household items and swag for people who want to show pride for their Loving Female Led Relationships.
Digital Branding & Marketing Consultant – As a Digital Branding & Marketing Strategist, I help small businesses to create strong, engaging brand identities and brilliant marketing strategies.
Background Actor – In 2016 I began a 7 month journey in entertainment as a background actor on more than 70 television shows, commercials and films including Shameless, Disjointed, Lethal Weapon, Court TV with Christina Perez, NCIS Los Angeles, SWAT, Bones, This is Us, Scandal, Insecure, How To Get Away With Murder, Code Black, Desperate Waters (2017), Bright (2017), Newness (2017) and A Wrinkle In Time (2018). 
2017
Brand Ambassador and Promotional Model – I began working as an experiential marketing brand ambassador and promotional model for established brands such as the Los Angeles Rams, Lindor Chocolate, Anime Expo, Sprint, L'Oreal, Clairol, Milani, YouTube, Dos XX, Kiss Lashes, Cricket Wireless, Dannon Yogurt and many more.
Catering Server – I began working as an on-call catering server for the best catering companies in Los Angeles, serving guests at a variety of events from the Emmy's to luncheons to weddings to holiday parties in private homes.
Book Published – In June 2017 I published my second print relationship book- She Wants: A Loving Female Led Relationship. SheWants is the textbook that defines Loving Female Led Relationships.
Facebook Group for Los Angeles Transplants – I created an active Facebook Group for (hopeful) Los Angeles Transplants called MTLA- Moving To Los Angeles. People join the group to meet others, ask questions and find support before moving to Los Angeles.
2018
Matchmaking Service – In 2018, I created the Loving FLR Matchmaking Service. Through the Loving FLR Matchmaking Service, I connect Powerful Women with the Gentlemen who adore them. My hope is to empower women through introducing them to the concept of Loving Female Led Relationships and use my skills as a matchmaker to introduce them to men who truly want to cherish and support a Powerful Woman. Men must complete a 4 week training program and a background check to participate in the Matchmaking Service.'
Corporate Training Program for Sexual Harassment – I created The New Rules for Engaging Women at Work to help end sexual harassment in the workplace. The New Rules set firm guidelines for men who are confused and afraid to interact with women following the destruction caused by women raising their voices against sexual abuse during the #MeToo Movement. The New Rules outlines which behaviors are acceptable and which are not acceptable when interacting with women in the workplace. It also examines how power induced by fear of men will damage our business culture and challenges women to become intentional leaders.
Book Published – In March 2018 I published my 3rd print relationship advice book- How to Love a Powerful Woman: The Gentleman's Guide to Loving Female Led Relationships. How to Love a Powerful Woman is a guidebook to teach men how to prepare for, attract and be an asset to a woman who is assertive and powerful.
Facebook Group for Women in Healthy Relationships – I created a closed Facebook group called Happy Women In Love because I believe there are women who are actually happy in their relationships and I want to celebrate them. Men are only allowed in the group by invitation. No male bashing is allowed. This group is for all women and all sexual orientations.
Fiction DRAMA Series – I created my very first on-going drama series called CORRECTION. Readers can follow along with this text based Soap Opera to learn about how the principles of Loving Female Led Relationships impact the lives of the characters. Filled with drama, thrills, suspense, romance and sex. Subscribers receive episodes by email.
Book Published – In June 2018 I published the Loving Female Led Relationship COUPLES WORKBOOK which helps couples establish relationships that empower women.
Book Published – In September 2018 I published Loving Female Led Relationship Stories, a collection of real stories from real people in relationships where the woman's happiness is the primary focus.
Podcast Producer and Host– In October 2018 I created Mental Illness Mental Brilliance, a podcast which explores the connection between mental health and personal success. I am the producer and host.
Mental Health & Personal Success Blogger – In October 2018 I created Mental Brilliance, the companion blog for the Mental Illness Mental Brilliance podcast which showcases the most outstanding minds with mental illness and their coping strategies.
Workshop Instructor – In October 2018 I facilitated my first series of live workshops in the Broward County community. I taught How To Self Publish a Self Help Book in 30 Days, How to Turn A Blog Into a Business and How to Set Up an Online School
Blog Re Launch – Share My World, my original personal blog has been relaunched as an archive and is now public once again. It chronicles in exquisite detail, my daily life after graduating from undergrad in 2003 until 2011.
Book Published – In December 2018 I published A Manifesto for a Female Led Society. I outline my vision for a Society that embraces and prefers the leadership of women.
2019
Podcast Producer and Host – In January 2019 I created the Female Led Society podcast to share the objectives for the establishment of our Female Led Society.
Book Published – In January 2019 I published The Enlightened Submissive: Untwisting the Kink of Submission. This book challenges men who label themselves as submissive to stop harassing women to dominate them, turn away from their obsession with kink and learn how to be sincere supporters of women.
Social Issue Advocacy to END Hate Crime and Bullying – Creator of the Alternative LOVE Day (the OTHER Valentine's Day) on March 14th. Alternative LOVE Day celebrates Alternative LOVE and relationships with a 14 day moratorium on hate crimes and discrimination against Alternative LOVE relationships like interracial relationships, polyamory, lesbian, trans, gay, Loving Female Led Relationships and more.
PSA Video Producer – Creator of the Who Cares About Love? Anti-Bullying and Discrimination PSA video.
Digital Conference Producer – In March 2019 I will host The Alternative LOVE Conference, my very first Digital Conference. The Alternative LOVE Conference encourages discussion and acceptance of alternative love and relationships.
Affirmation Video Podcast  – In March 2019 I created the AFFIRM YOURSELF video series filled with personal life guidance affirming personal responsibility and peace of mind.
Free and Fearless Life Web Series – In April 2019, I began the Free and Fearless Life Web Series, a living documentary of my adventures as a Black female digital nomad, traveling the country alone.
Te-Erika The Oracle – In May 2019 I stepped into my destiny and became Te-Erika The Oracle, the bearer of mental freedom. After giving more than 100 intuitive card readings with 98% accuracy I accepted my gift as a divine voice of wisdom.
Dream Catcher
I have achieved every dream that I have ever had. I don't believe I have any limitations. If I choose to make waves in this world in any field that I desire, I know that I can, simply because I am capable and it would be fun to do.
CONTACT: Contact{at}MySavvySisters.Com
To Show Appreciation: USE PAYPAL or CASHAPP: $TeErikaPatterson