My schedule is free as free can be. I wake up whenever I feel like it and go to sleep whenever my eyes get tired. I have no outside obligations so I find myself up all night when reruns of Seinfeld are on.
I heard about this show during its heyday pero I wasn't into watching TV at that time and I figured it would be boring but these days I gave it a shot and I am blown away by the simplicity of this show and their lives.
It's about the little nothings.
The show is about the simplest shit that happens between friends. Their lives are about sharing the smallest details, making the simplest decisions and their silly worries.
I call their worries silly because I view life as an illusion that we take way too seriously. Because I view life this way it is tough for me to want to get involved in other people's drama and even my own drama. One day I caught myself talking to my Mama about the groceries I bought and I thought to myself- this is Seinfeld type of shit.
But really, without being attentive to the little nothings, the little things, the details, life doesn't mean anything.
I have to get into the nothing moments more. I have to teach myself how to celebrate the social milestones of life because honestly, I'm usually like- So what? Getting married? Marriage is made up, socially constructed and unnecessary.
Grad school. Success. Fame. Fortune. Honors. Applause. Achievement.
None of those things are important really. It's just check points on the road of life, but they don't mean anything to our eternal souls.
Ha! I just laughed out loud as I wrote that. I sound soooo morose don't I? Well, I am!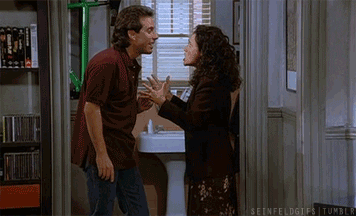 I remember a friend of mine got engaged and she proceeded to describe life for her and her fiance. That shit sounded boring as fuck. They play video games, go shopping and go to dinners together. Soo boring.
But maybe I'm missing something. Since we are living this life and we can't escape it, why not play the social game and achieve some of those milestones and live in this mundane moments, especially if we have someone to go through them with.
Maybe the reason I scoff at the mundane moments is because, I'm viewing them through a singular lense with no one to share them with so they seem insignificant to me. Maybe this experience of life is really about sharing the experience and going through the nothing moments with each other even when you know they don't mean as much as people make them out to be.
So. Anyone wanna go grocery shopping and discuss this week's sales?