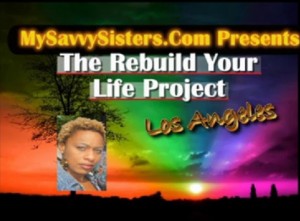 Te-Erika Patterson, the publisher of MySavvySisters.Com, the leading empowerment blog for women, will teach HOW TO MOVE TO A NEW CITY by documenting IN REAL TIME her relocation journey to Los Angeles, a city she has never visited.
Her goals:

1) To raise $4,000 and offer this financial assistance in the form of a grant to a woman in the Los Angeles area to help her REBUILD HER LIFE.
2) To engage the community of Los Angeles and interview people who have relocated to achieve their dreams.
3) To explore and report on the local resources available to help women.
4) To establish herself as a resident of California, living and working there.
To view the living documentary, which began on May 24, 2012 please visit her youtube channel, Embrace Your Fantasy.